7 Free & Easy Bachelorette Party Gifts You Need to Crochet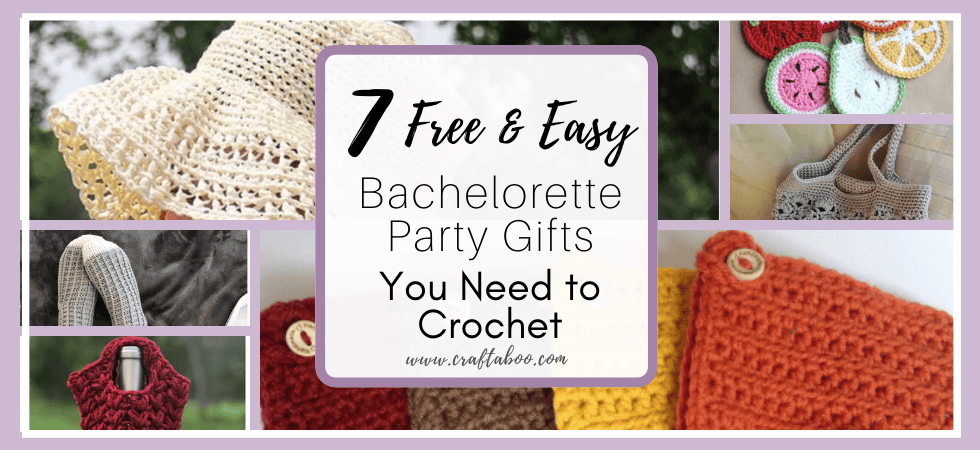 Reading Time:
4
minutes
Looking for the perfect gift for that bachelorette party, but you don't have tons of cash? Problem solved! This roundup will give you some great ideas that you can crochet and be the hit of the bachelorette party!
***Heads up: My posts may contain affiliate links! If you buy something through one of those links, you won't pay a penny more, but I'll get a small commission, which helps keep the lights on! Thanks!***
7 Free & Easy Bachelorette Party Gifts You Need to Crochet
Click To Tweet
It's starting to be my favorite time of year. It's almost fall! I don't know about you, but the weather has been just one more crazy thing that's been happening in 2020. I am so over the summer heat and ready for the crispness of fall.
The end of August and the first part of the fall are super popular for weddings. Chances are you know someone right now who is going to be tying the knot pretty soon. If you're scrambling for last-minute gift ideas for the bachelorette party, or wedding shower and you're as broke as I am (Thank you amazon prime + CoVid!) then this is going to be a great roundup for you.
All of these patterns are super easy, fun, quick, and best of all, FREE!
1. Coasters – While this might seem rather boring, coasters are a great idea for something to crochet. Bring some of these adorable fruit themed coasters to the bachelorette party, and the bride is going to go nuts!
Sarah at Repeat Crafter Me has the cutest ideas for fun coasters. These make me want a fruit salad, anyone else?

2. Floppy Sun Hat –A really cute floppy sun hat is just the ticket for your bachelorette party! The bride may not be going to a beach or somewhere sunny for her honeymoon, but everyone can use a floppy hat while out in the sun.
Maybe she's into gardening, or maybe she just loves the look of the classic sun hat. Either way, you cannot go wrong with this adorable hat from SeeLove Share!
3.Passport Case – If your bride is going someplace fun for her honeymoon, then she's going to be using her passport more than likely. Anyone who has done any amount of traveling knows that it's tricky trying to keep track of all your paperwork while navigating an airport.
Another great bachelorette party gift idea would be to make this fantastic passport case from Your Crochet.com. It's cute, it has a strap, and it holds all your important documents while traveling. What else do you need? Besides a mai tai and a cabana boy?
4. Cup cozies – You can never have too many cozies! How cool would it be to make a set of these cozies in the colors of the bride's home decor? This will definitely make you the hit of the bachelorette party!
5. Cozy socks – If the bride is starting to get cold feet, you can always make a pair of these cozy crochet socks and bring a few pair to the bachelorette party!
These socks from Lakeside Loops look so comfy I want to make a few pairs for myself first, and then we'll see about giving them as gifts.
6. Wine Tote Bag – Always a great gift idea. Whether you're going to a housewarming party, or just bringing the wine to dinner with friends, a wine tote is always a good idea.
Added bonus, this pattern from Posh Patterns Blog is thick and cozy, and would look great in your bride's wedding colors!

7. Large Tote Bag – And finally you can never have enough tote bags as far as I'm concerned! They are handy for carrying her things to a sunny beach or to pack some essentials on a quick trip across town when she gets home.
How stunning is this tote bag from The Lavendar Chair? Super adorable, and looks sturdy enough to carry a load!
Final Thoughts:
Whether you're going to a bachelorette party, a wedding shower, or just looking to make a quick gift for a friend, I hope you were able to find some good ideas in this roundup.
Which one was your favorite idea? Do you think I left something out that should be on this list? Leave me a comment below and let me know! And if you liked this post, could you hit the share button and spread the love? Thanks, you rock!